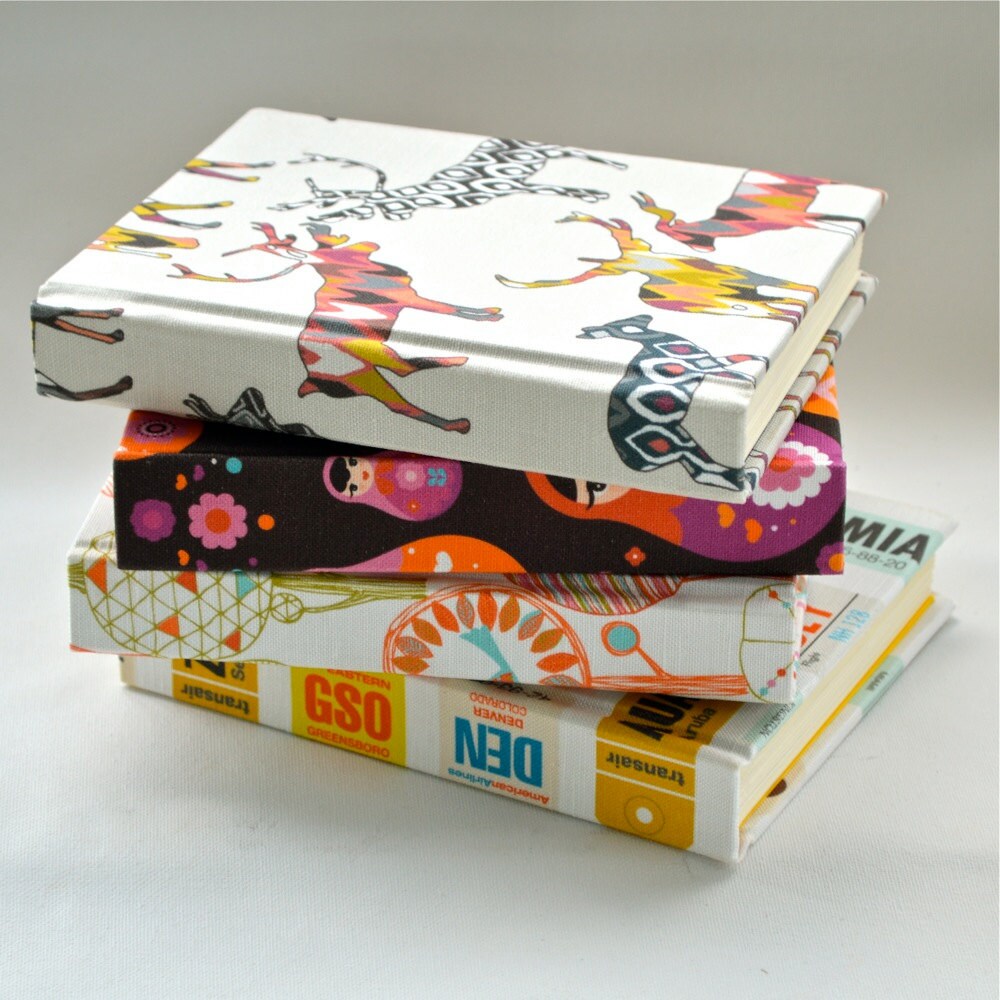 I've been trying to photograph and write the listings for some new journal designs to post to my ETSY shop this past week, but there have been so many social commitments, lately…I can't believe the number of my friends with their birthdays in September, there sure was a lot of baby-making going on during the Christmas holidays! Oh, curious thought: Maybe Santa's your real dad?

Here are four new journal designs in my ETSY shop…these are made with Spoonflower fabric designs by other talented designers, not me. Sometimes it's nice to see someone else's ideas on a journal cover, I get tired of my own style.
Clicking on the image will take you to my ETSY shop. If you want to purchase the fabric, instead, click on the designer's name under the picture.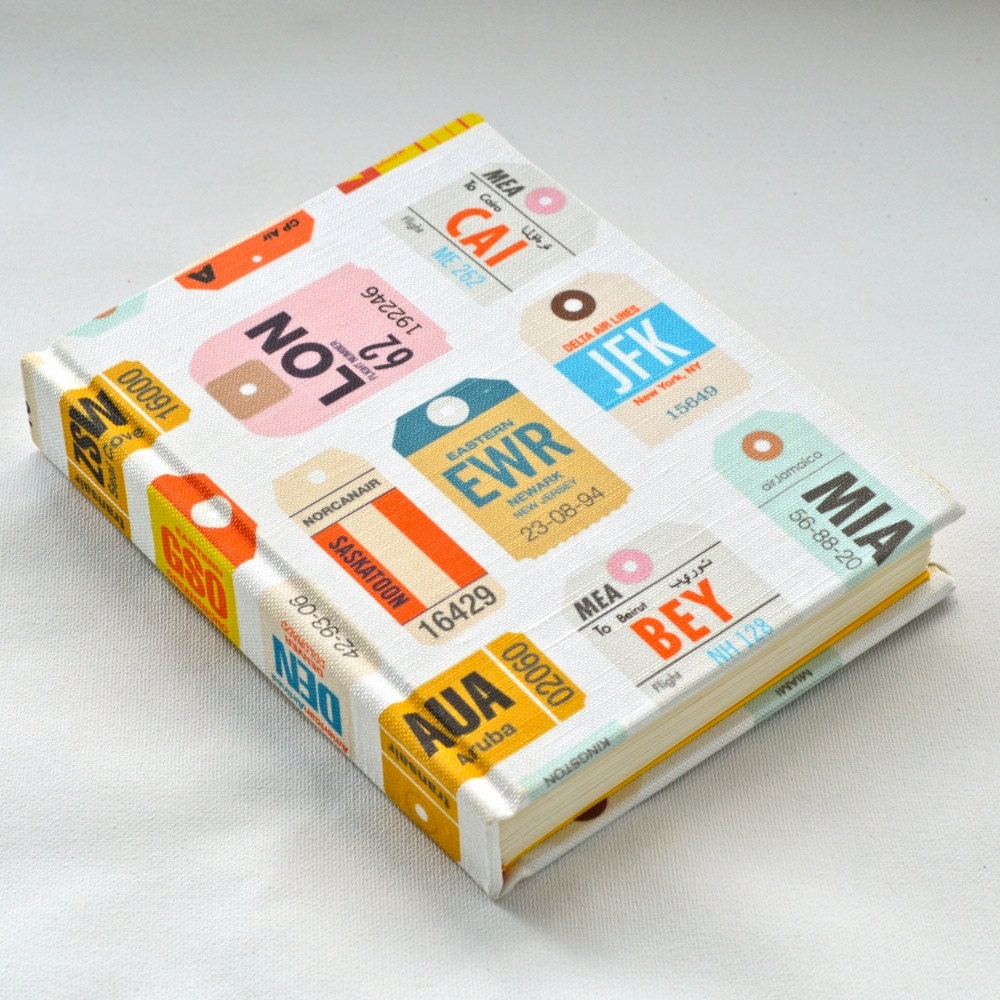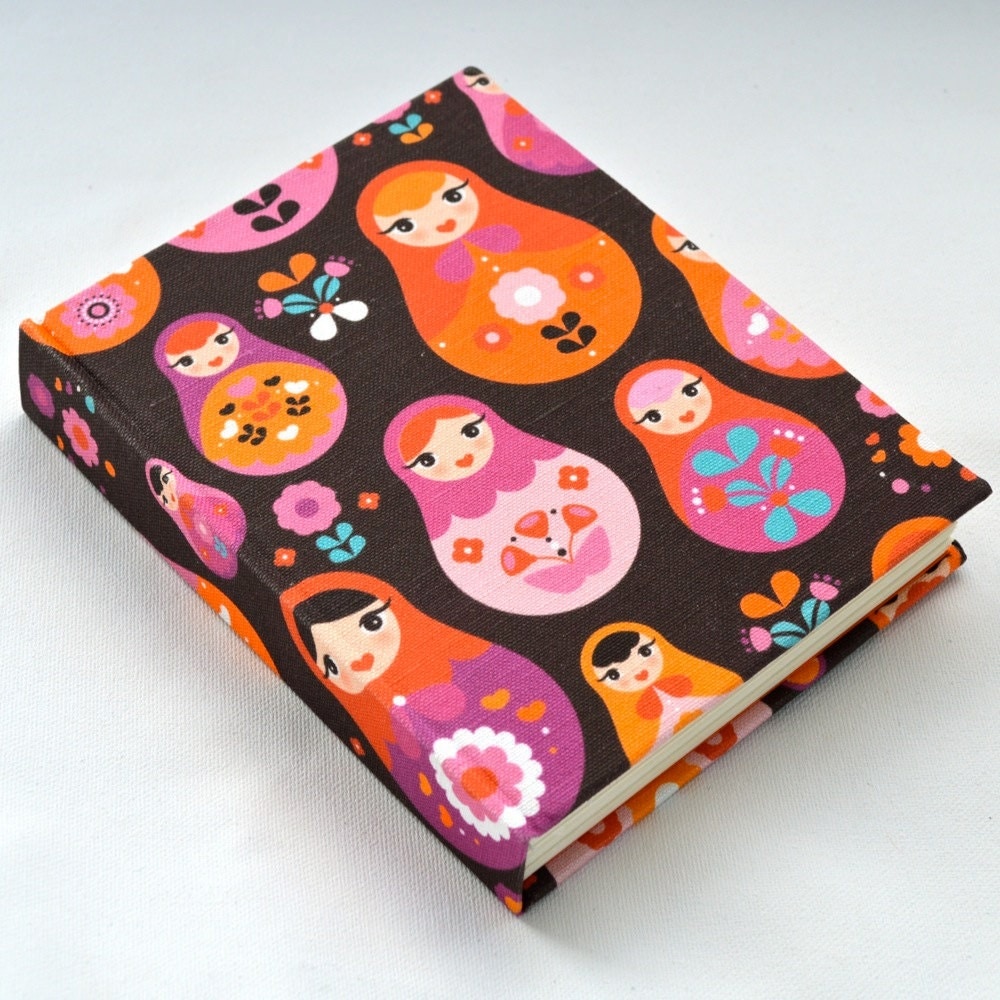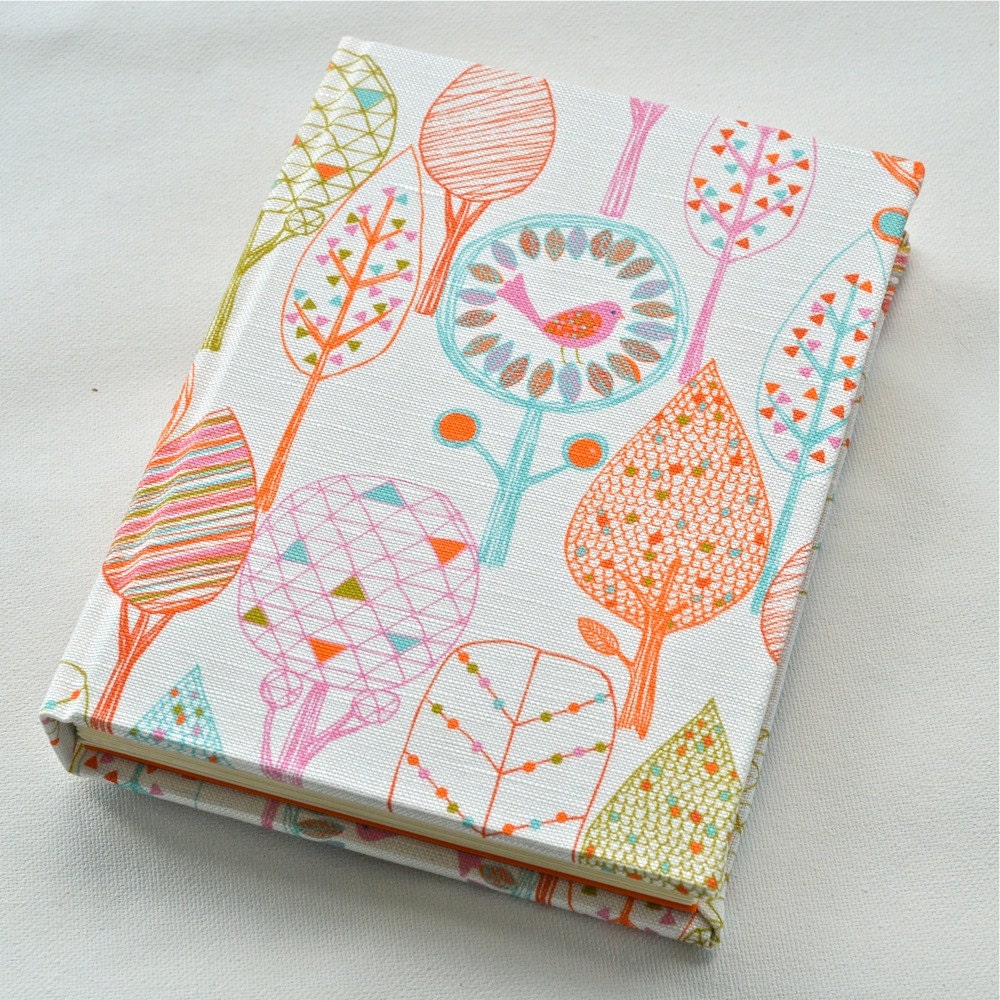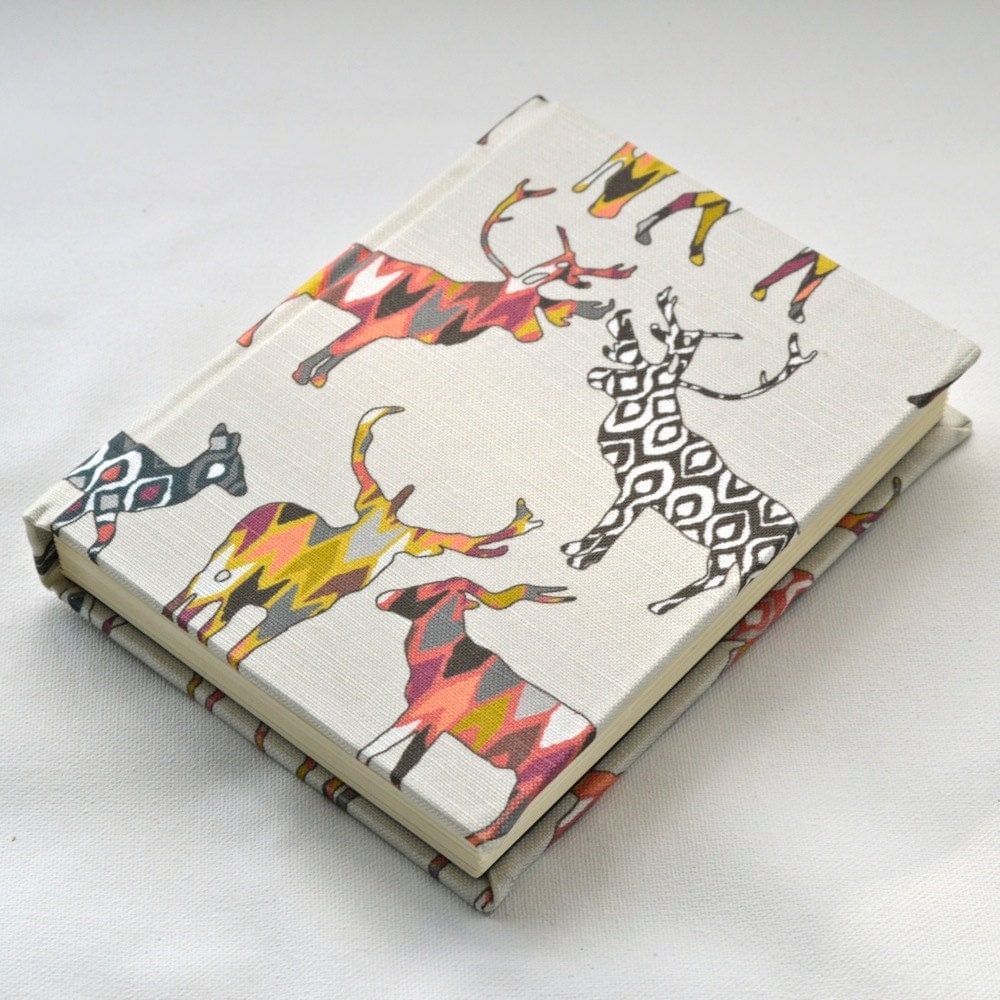 I only bought a fat quarter of each design, so there are only four journals of each. This is pretty much the last bit of bookbinding that I will be doing for a while, so if you've had your eye on something in my shop, best grab it now! I can't take these with me when I leave Darwin (too heavy!) and I will have to put my shop in stasis until I manage to make something new on my travels. I know this all sounds so vague, but I feel as though I am standing at the edge of my known world, about to hurl myself into an abyss! I don't know any more than you do about what is coming…only that I'll be with my love, again, and that makes up for everything else!
Speaking of Kris, he left me some of his self-published books, and I have decided to put them up for sale on ETSY, as well! They were printed by small presses in the Philippines, but Kris bound them all by hand (very roughly, but the point of these books is the story, not the binding), so they can legitimately go on ETSY. (As of this listing, Kris is in Africa, cycling through Zimbabwe, Botswana and Namibia.)
I am selling his two best books: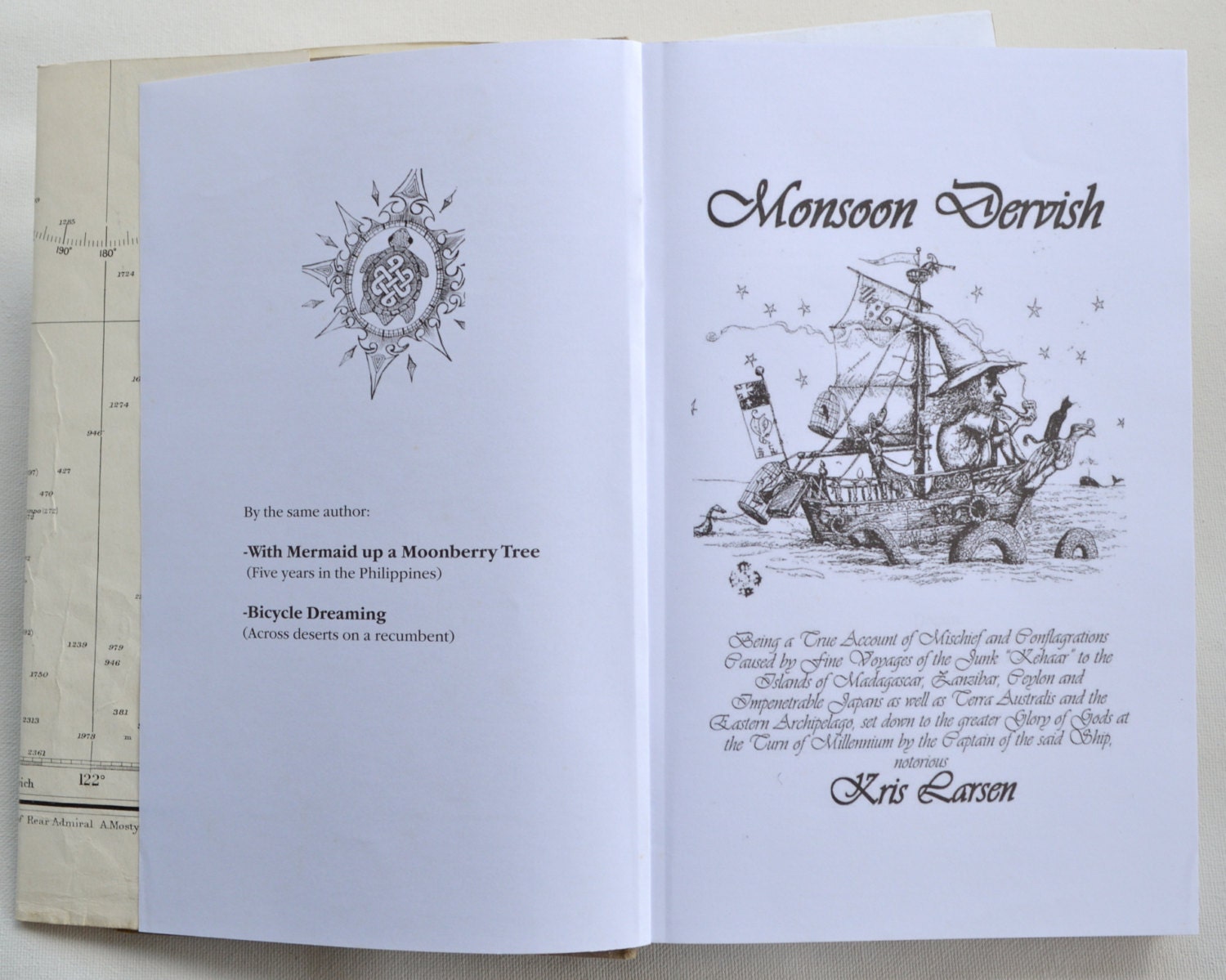 "Dream. The day you stop dreaming, you are as good as dead." —the Monsoon Dervish motto.
On a home-built Chinese junk that had no engine, electricity, radio, GPS, not even a compass, my partner, Kris Larsen—a carpenter by trade, an adventurer at heart—crisscrossed the Indian Ocean and the Western Pacific for seven years, from Australia to Madagascar and Japan, covering a total of 45 000 miles.
Forever broke, dodging officials and flying by the seat of his pants, Kris found himself trading spices in Zanzibar, collecting sea-cucumbers on a deserted island, and entertaining gangsters in a Japanese night-club. In Sri Lanka he was arrested as a suspected Tamil terrorist; in Comoros he was chased out of the harbour by gun-waving policemen. He survived a 360º rollover in a typhoon off Taiwan, finally stopping on a beach in the Philippines to write this book.
For the next seven years he tried to find a publisher for his work: anywhere, anyone. Nobody was interested. Frustrated, he typed the text onto a CD and on the next trip to the Philippines he paid a printing press in Davao to run 200 copies of the book. Each book has been bound by hand and covered with old sailing charts, and every copy is different. The first printing sold out in 4 months around the Darwin waterfront. Roughly bound and roughly written in Kris' pronounced Russian-English, this book is surprisingly funny, entertaining, and inspiring, too…it's gathered a small following of readers from around the world.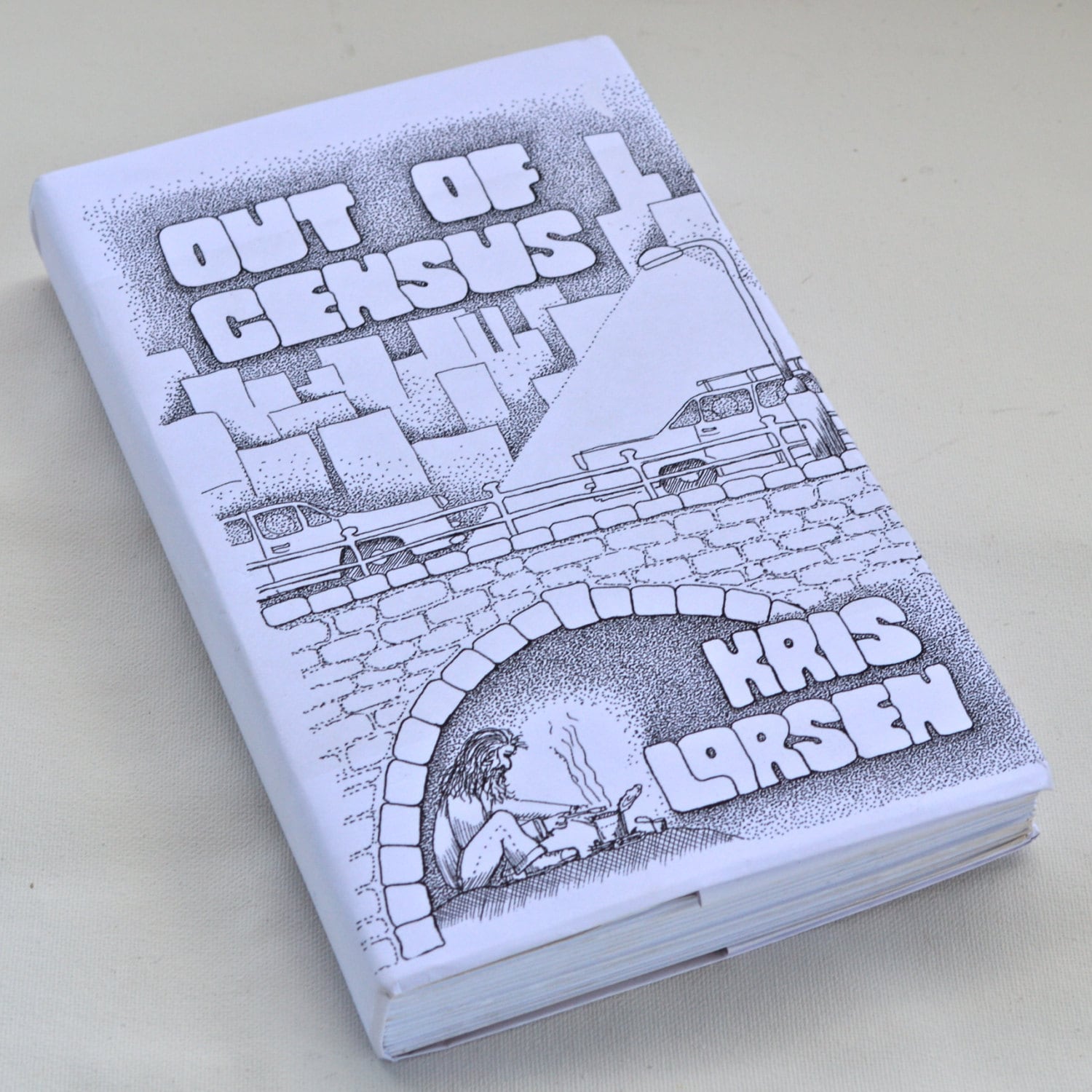 "If I could choose one thing to take with me on a round the world trip, I would take a warm sleeping bag. If I was allowed two things, I would add a good passport. In that order." — opening lines of Out of Census
This is the first volume of an autobiography by my partner and belovéd—a mad adventurer and prolific writer— Kris Larsen. It follows Kris's growing up in Eastern Europe under communist rule, his days as a tramp and a rock climber, his brazen escape into the West, going half way around the world as an illegal alien with dodgy papers, over-landing to India and beyond.
It's a humorous take on the life of a would-be refugee that nobody wanted, showing how little you really need in order to do the things you always dreamed about. You want to go on an expedition? Put on your boots and go.
"Twenty years from now you will be more disappointed by the things that you didn't do than by the ones you did do. So throw off the bowlines. Sail away from the safe harbor. Catch the trade winds in your sails. Explore. Dream. Discover." ― H. Jackson Brown Jr.