I showed you this fabric I designed and printed with Spoonflower aaaages ago, right?
Well, I was chuffed when it first arrived, but then I got cold feet about actually making journals from the fabric and it has lain all this time, unused, in a drawer. I let my self-destructive superego get the better of me. I started to find fault with the design: too busy, too many colors, too immature, the subject was too simplistic, not enough thought had been given to composition, to balance, not enough care was taken in painting it, blah, blah, blah…. In the end I convinced myself that I should be ashamed to show this design to people, or put it on my journals and offer them for sale at craft markets or online. It was just SO UNSOPHISTICATED!
But my ETSY shop was empty last week, so I took the fabric out, looked at it again, and (in a gentler and more accepting mood) found myself thinking "It's okay for a first time fabric journal design…and there is something uninhibited, psychedelic and childlike about the intense colors, the clashing patterns, the higgledy-piggledy arrangement of elements. All of which, I realised, I'm actually grateful had happened to this journal cover design, and not some other. At least these qualities fit the subject, no? So I have been lucky, really.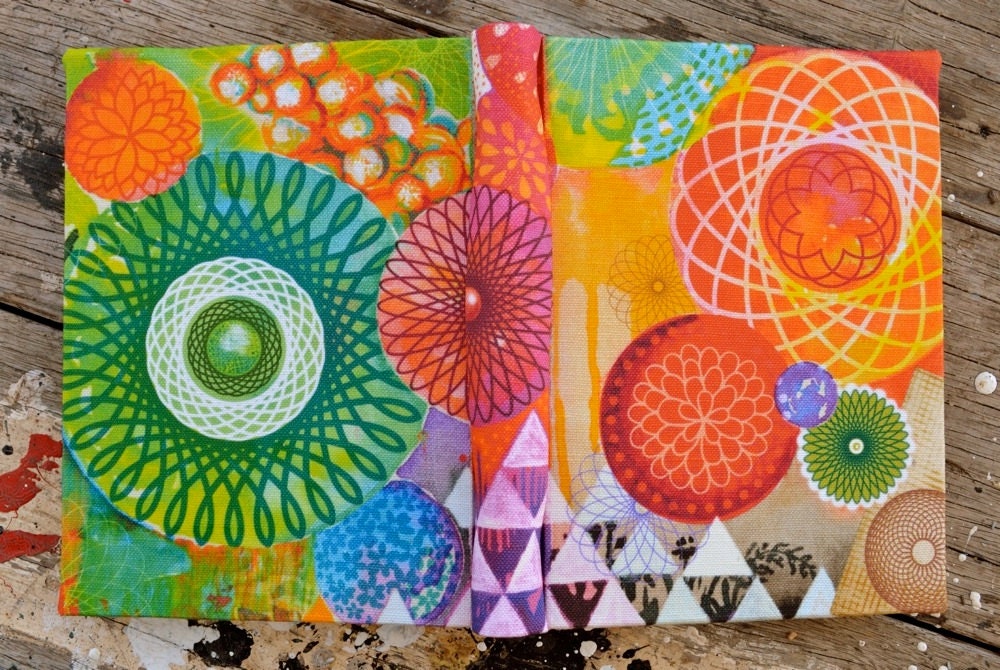 Inspired by a Spirograph toy from 1969—that I always wanted but never got—which Kris bought for me on ebay a year ago, on Valentine's Day. The original design was worked in inks, paints, and colored pencils on linen; with additional textures, overlays of other paintings of mine, and some floral patterns added in Picmonkey. The actual book covering fabric is linen-cotton canvas printed by Spoonflower (this is an awesome fabric to cover books with…the more I use it, the more I like it). There are two cover designs (because I printed the cover as a mirrored repeat) so you can choose to have a greeny-blue cover, or a mostly warm reds-and-yellows cover.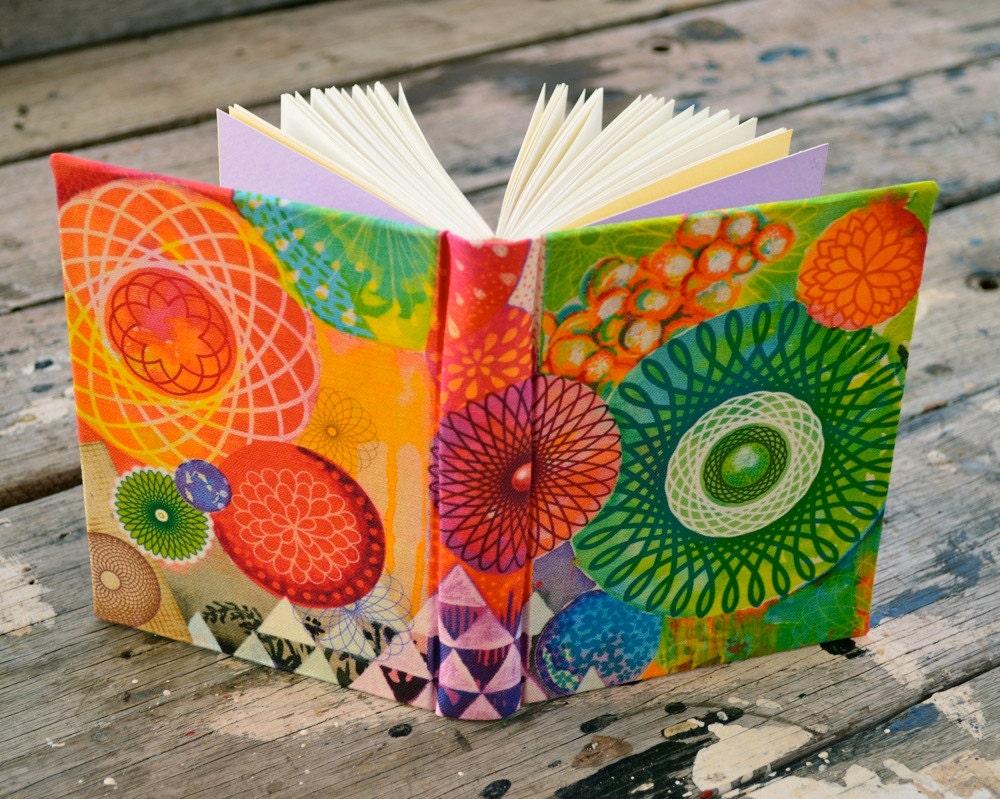 I have 7 of each cover version, now available on ETSY. Details about the paper and binding are in the item's description there, too.